Manny Wah , a 6-year-old son of Will Take Charge , had just secured an automatic berth in the Nov. 5 Qatar Racing Breeders' Cup Sprint (G1) at the Lexington oval with a 17-1 upset of the Phoenix—his first graded stakes win.
Manny Wah, ch, 6/h
Will Take Charge — Battlefield Angel, by Proud Citizen
Owner: Susan Moulton
Breeder: Martha Jane Mulholland & Modo Tesio Equine, LLC (KY)
Trainer: Wayne M. Catalano
Jockey: Corey J. Lanerie
Information provided by Equibase at time of entry.
Pedigree Notes
Will Take Charge stands at Three Chimneys Farm for $5,000 (2022).
Sale History
FTKJUL2017 • $175,000 • Consignor: Warrendale Sales, agent • Buyer: Susan Moulton.
"This is what we do," the horse's trainer reported. "When it's Breeders' Cup time and that purple shows up, then we come to life."
Manny Wah certainly did just that Friday, surging up the rail to nip Long Range Toddy by a neck for the score. He landed his biggest win to date in his 34th start for owner Susan Moulton, and while he might not have gone in with the faith of the betting public off a fourth in the Sept. 17 Louisville Thoroughbred Society Stakes, Catalano knew what he had.
"The horse is doing great. His last race showed that he was coming back to form," he said. "He got a big Beyer number, he was very happy, training great, so I was happy with him today."
With Corey Lanerie in the irons, the blaze-faced chestnut raced eighth and last of all as 2021 Phoenix winner Special Reserve led the way through an opening quarter in :22.08, with Top Gunner in close pursuit. The two traded places through a half in :44.75, while Manny Wah still trailed the field.
The eventual winner began to make up ground with a three-wide rally entering the lane, moving into sixth as Top Gunner notched five-eighths in :56.96 under pressure from Long Range Toddy. The real running was done in the final furlong, as Manny Wah first surged between horses while tipping in for clear racing room in midstretch, then sustained the rail bid that carried him to the win after a determined duel with the second-place finisher.
Manny Wah returned $37.14 on a $2 win ticket, while Long Range Toddy and Top Gunner completed the trifecta. Special Reserve weakened in upper stretch and finished last.
The final time was 1:10.31 on a fast track.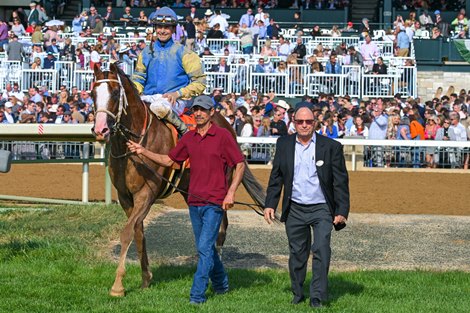 "When I was watching him I had him really good and then I kind of lost him; the next thing I know, the (announcer's) hollering 'Manny Wah!' and that was me!" said Catalano, who won the 2021 Breeders' Cup Sprint with Aloha West . "This horse made over ($582,000) the hard way… he had some very unlucky races.
"The year before last he should have won the Breeders' Cup. If you go back and watch it, he gave the spot up to (Whitmore); he was gonna win that day we gave the spot to Whitmore, that's the way I saw the race."
Manny Wah finished fifth in that edition of the Breeders' Cup Sprint. He also counts a grade 1 placing on his résumé, a third in the 2019 Malibu Stakes (G1) won by Omaha Beach. A victory in the 2021 Duncan F. Kenner Stakes was his best accomplishment until Friday's victory.
"The race came up OK; it wasn't crazy," Catalano said of the competition. "(Trainer Steve) Asmussen wasn't in there (with champion sprinter Jackie's Warrior), a couple (other horses) weren't in there. It looked like a race we could possibly win—and we did!"
Bred in Kentucky by Martha Jane Mulholland & Modo Tesio Equine out of the Proud Citizen mare Battlefield Angel, Manny Wah improved his record to 5-9-6 with earnings of $791,355. He is the lone graded winner out of stakes-winning, grade 1-placed Battlefield Angel, who died due to colic, according to John Mulholland. She also produced a maiden-winning 4-year-old Pioneerof the Nile filly named Wow and a juvenile Justify filly named Just an Angel who ran second in maiden company in June for L and N Racing and Mulholland Springs and is returning soon to Asmussen after a layoff.
Manny Wah was purchased by Moulton in 2017 for $175,000 from Warrendale Sales' consignment to The July Sale, Fasig-Tipton's select yearling sale in Kentucky.
Courtesy of the Bloodhorse