Christian Black knew the Justify colt consigned as Hip 78 to The Saratoga Sale was a once in a lifetime horse.
The breeder who operates as Blackwood Stables saw his inklings recognized Aug. 8 at Fasig-Tipton's selected yearlings sale in Saratoga Springs, N.Y., where Coolmore's M.V. Magnier went to $1.1 million to bring the colt consigned by Warrendale Sales home. Michael Wallace of the fledgling Telluride Agency signed the ticked on Magnier's behalf.
FTSAUG, Hip 78: yearling, c, 2021, Justify – Slews Golden Rule, by Langfuhr; Breeder: Blackstone Farm LLC (PA)
Sale Price: $1.1 million
Buyer: M.V. Magnier
Consignor: WARRENDALE SALES AGENT IV
"I don't think I ever brought a yearling at this stage to the sale that had the quality like him," Black remarked. "For us, so far, he's been once in a lifetime… He's a special horse."
Bred in Pennsylvania out of the Langfuhr mare Slews Golden Rule, the chestnut colt is one of the last foals out of the mare, who died while delivering a Tiz the Law colt this year. Slews Golden Rule was also the producer of 2019 Malvern Rose Stakes winner Ledecka (Tiznow). Three of her four foals to race became winners.
Coolmore, of course, stands 2018 Triple Crown winner Justify at Ashford Stud near Versailles, Ky.
"Justify is going really, really well at the moment," said Magnier. "It's been incredible since we've been here the past couple days how many people have come up to us to tell us how well the horse is doing…"
Of Hip 78 specifically, Magnier remarked, "He's a very nice horse, he's very sound."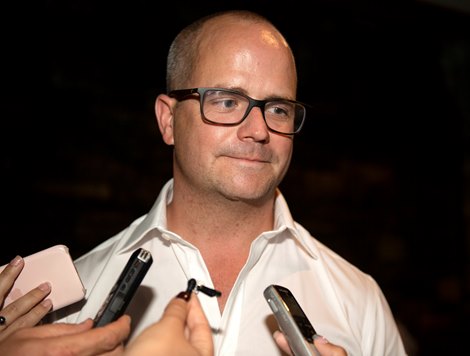 Only one other colt by Justify sold through the ring Monday during the sale's first night—Hip 70, a colt bred in Kentucky by Hill 'n' Dale Equine Holdings and Stretch Run Ventures out of the Tapit mare Shadowing, which agent Mike Ryan purchased for $400,000.
Justify has seven yearlings set to sell Aug. 9, four colts (Hips 111, 139, 140, and 194) and three fillies (Hips 135, 146, and 215).
As for Black, his Monday night success extended beyond the seven-figure yearling. His others through the ring also all sold—Hip 14, a More Than Ready colt out of the Lookin At Lucky mare Lucky Draw ($250,000 to Anthony Stabile); Hip 44, a son of Medaglia d'Oro out of the Elusive Quality mare Perfect Note bred in partnership with Dr. William Hess and Godolphin ($400,000 to Spendthrift Farm); Hip 59, a Bernardini filly out of the Storm Cat mare Rhys ($170,000 to Highbury Bloodstock); Hip 100, a Gun Runner filly out of the Bernardini mare Sweet Promises ($300,000 to Stephen Smith for Elements Racing); and Hip 105, a daughter of Arrogate out of the Malibu Moon mare Too Much Malibu ($200,000 to Frank Brothers, agent for Starlight Racing).
Courtesy of the Bloodhorse